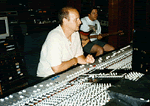 Taught by Gold & Platinum awarded producer Jim Ebert (clients include Butch Walker / Marvelous 3, SR-71, Toni Braxton, Honor By August, Madonna, HR of The Bad Brains, and hundreds of other national and local artists) in Cue's legendary studios. Learn production skills and techniques from a real pro, record and produce a real band, and experience first hand how to "produce" great recordings during (65) hours in the studio and control room recording and then mixing the band you recorded. During and at the end of the program the student will use (15) hours of Lab Time practicing their Pro Tools and computer skills.
Cost is $7,750 for our "One on One" private course OR $3,750 for a Group Class course.  You'll learn effectively with extensive "Hands-On" training using instruments, amps, recording software, and state-of-the-art recording gear while you produce the area's finest studio musicians performing as a session band. Call Dusty at 703/532-9033 for more info.
View the Course Outline below.
Course options are days, nights and weekends.  Call for current group class dates, or to schedule convenient "one on one" dates.
From mastering world class audio gear to understanding "the song" and "the artist", this program is essential for anyone interested in becoming a professional music producer, or just taking their music career to the next level.
Watch the below course video for a course demonstration.

Learn various types of production techniques used in alternative, rock, crossover country and many other musical styles. Upon successful completion of the (80) hour program, Cue Studios' Center for Audio Engineering awards a "Certificate of Completion" to the graduated student.
During and after the course, the student is encouraged to participate in Cue's internship program to observe and render tasks while gaining first hand knowledge of the inner workings of a successful recording studio business.
Schedule a free interview
If you're serious about your audio education, call our course administrator at 703 532 9033 to schedule a meeting with Jim. You'll meet in the studio and observe first-hand the environment and equipment used in your program.
Click the below links to sign up for either course using our online Paypal or credit card payment option, or contact our business office at 703 532 9033 to pay in person or by telephone.
Fee:  $7,750 – Call to enroll, or click to sign up online ("One on One" – Private Instruction – Dates scheduled upon enrollment)
Fee:  $3,750 – Call to enroll or click to sign up online  (Group Class) Please call for current schedule

"Become a Music Producer" Course Outline:
Group Classes adhere primarily to the below syllabus, and "One on One" private classes can be tailored to specific needs in accordance with individual strengths and weaknesses of the student.
Getting to know your Artist
• Musical Genre
• Targeting Textures and Treatments for the Artists Sound
• Focusing Song and Artist Vision
• Understanding the Artist's Audience
• Listening and Analyzing Comparable Artists
Song treatment
• Every Song is its Own Entity
• Explaining and developing Verse and chorus elements
• The beauty of repetitive themes
• The need for a Bridge if necessary
• Developing melody
• Setting up the Chorus
• Setting up the song to be a Journey
• The Breakdown
• The Climactic Ending
Instrumental Treatment
• Focusing Feel of the Song
• Percussion- Developing drum feel for the song
• Keeping it simple
• Leaving space for the song to develop-Everyone does not need to play All The Time
• Developing Hook lines Instrumentally
• Looking at your Artist 's peers Instrumentally
Vocal Performance
• Figuring out the best way to work with your Artist
• Choosing Microphones for your Artist.
• Setting up an Environment for your Artist Sonically and physically.
• Making sure you understand the Lyrics and meaning of the song and your input  into the performance.
• Vocal Production Techniques
doubling, layering, time based effects, compression, tuning
Technical Subjects:
Studio Microphones & Pre-Amps
• Microphones:  styles, types, sounds and applications
• Microphone pre-amps:  the hidden magic
• Microphone placement
Equalizers
• How not to overuse
• Frequencies and ear training
• Understanding frequency placement for song arrangement
• Compression:
• What it is and when to use it
• Using it as a weapon
Studio Software – Understanding Pro Tools, Logic, etc…
• Digital audio
• I/0 and d/a
• Plug ins and uses
• Timing correction
• Tuning possibilities
• Recording and mixing "in the box"
Mixing
• What is it?
• Instruments and frequency ranges
• Levels, panning and spacing
• Using EQ, compression and time based effects to create the atmosphere
for your song.
• Learning the rules then breaking them.