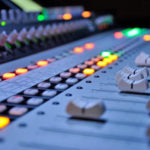 Recording Seminar:  Held in Cue's Studio "A", on October 13th, Saturday,  from 10:00 am – 3:00 pm with a midway break.  This  (5) hour course taught by Jim Ebert (a multi-platinum awarded engineer) occurs in a limited class setting. Learn about studio techniques, recording concepts, and equipment types – including microphones, mic pre's, compressors, studio monitors, analog and digital recording systems, and mastering.  This recording overview is designed for beginning engineers and  home studio enthusiasts interested in furthering their knowledge of modern recording equipment and techniques.
To sign-up, call 703 532 9033 and ask for Dusty, or just click the below link:
There will be a short break midway between the five hour course.  Please bring a note pad and pen, and a print-out of your paypal receipt or email confirmation or your enrollment.
Topics covered:
Starting at the Source:
From selecting the right microphones to getting pro sounds in the control room, we'll cover the basic "chain" of audio signal development and processing from start to finish.
Monitors:  Knowing what you hear.
Studio monitors, car speakers, reference CDs and other criteria for a proper listening environment.
Pro Tools:  The "In the Box" method of recording and mixing:
Includes recording, editing, comping, looping, tuning, quantizing and mixing.
Question and answer period at the end of the course.
**Reserve your space now as class size is limited. Just call Cue's studio manager Dusty at 703 532 9033.  Most major credit cards accepted.
Click here to purchase your enrollment with PayPal / or credit card – Cost: $199.00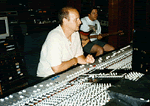 Jim's Credits include: Butch Walker, Madonna, Jason Falkner, Everything, Meredith Brooks, Matthew Ryan, HR, Niki Barr, Honor By August, Justin Trawick, Toni Braxton, George Benson, Everclear, and many more…
The course explains everything you need to know to do your own recordings ranging from what type of mic to use and where to put it, to editing/mixing/mastering techniques within Pro Tools. Whether you know a little or a lot, I guarantee you will learn something new, and have fun too. Jim and Sean were very informative and had answers to all of my questions. I highly recommend this course to anyone interested in audio engineering…. Paul O. past attendee.